Konferenz: Change Through Repetition
Mimesis as a Transformative Principle
29.11.2018 – 01.12.2018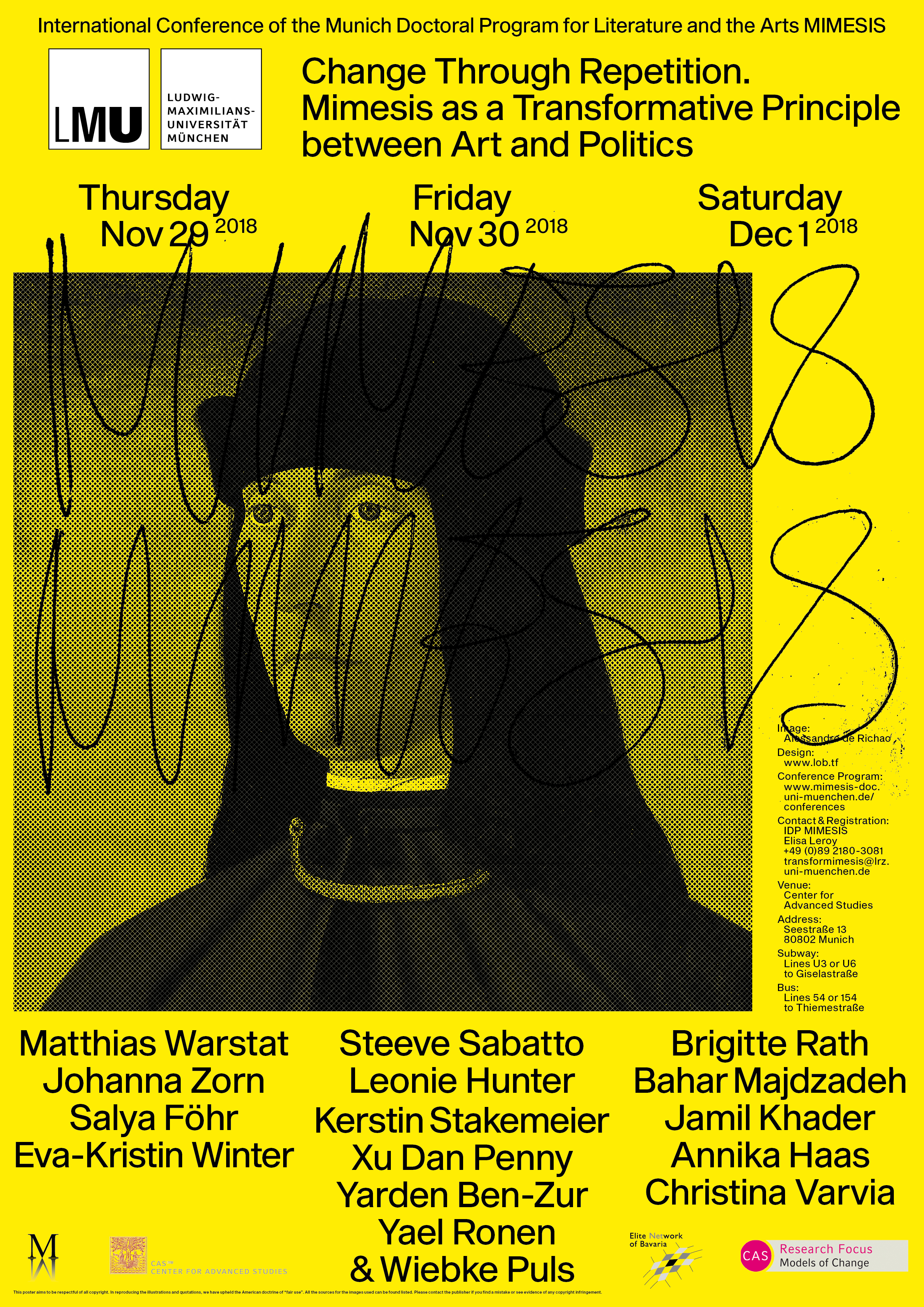 5th Conference of the IDP Mimesis in Cooperation with the Junior Research Group "Creativity and Genius" at the Center for Advanced Studies of LMU Munich, November 29 – Dezember 01, 2018
Mimesis is a key concept throughout the history of the arts, including the most recent developments in critical and cultural theory. From imitation of nature through representation of human action to the imagination of future possibilities, conceptions of mimesis often emphasize the dimension of repetition. The conference explores how this aspect of mimesis can also have a transformative capacity, thereby opening up the wider spectrum of art forms in relation to their social and political conditions. The key questions of the conference are: How can works of art effect cha nge through repetition? How does change through repetition take place in artistic or social contexts? Which forms of change can be identified?
Participants among others:
Jamil Khader (Bethlehem), Brigitte Rath (Innsbruck), Kerstin Stakemeier (Nuremberg), Matthias Warstat (Berlin)
Special Events:
Thursday, November 29, 7pm: Screening at Filmmuseum München on Peter Watkins' cinema.
Venue for this event: Filmmuseum München, Sankt-Jakobs-Platz 1, 80331 Munich Friday, November 30, 6.15pm: Artist Talk with Yael Ronen and Wiebke Puls: Revolutionizing Representation on/from the Stage?
Saturday, December 1, 1pm: Screening Lecture by Christina Varvia (Forensic Architecture)
Facebook: IDP Mimesis
Twitter: @IDPMimesis, #transformimesis
Instagram: idk_mimesis
Contact & Regis
tration:
IDP MIMESIS
+49 (0)89 2180-3081
transformimesis(at)lrz.uni-muenchen.de